Looking for the best tool to create a new profile picture? Check out Tinywow Now!
Hey! What's up, everyone? In this digital world, your social media presence is the key🗝️ to success.
You might not be aware of this but your profile picture is the first thing that viewers see once they visit your profile. It's what makes you stand out from the sea of other users on social media sites like Instagram, Facebook, and Twitter.
As we all know, first impressions are important and that's why it's essential for you to take a moment to edit your images and create new profile pictures for your social media profiles.
Editing Photos Automatically
Earlier, you'd have to spend several hours editing a photo, clipping out the backdrop, adding new colored backgrounds or photographs, and so on. Once you know how to use it, Photoshop makes it easy to do these things, but it's expensive and most people don't want to pay for it.
So, To Automate the process of Photo Editing, Video Editing, many free and paid online tools are available.
But with so many tools available online today, it's easy to get confused about which one would best suit your needs.
So if you also want to know more about the best tool to create a new profile picture, then Tinywow's Profile Photo Maker is the best tool for you, read on as we dive deeper into our blog post now!
Before Proceeding With Tinywow's Profile Maker, I want to let you know about Tinywow and its features.
What is Tinywow?
Tinywow is one of the best free online tools you can use to create a new profile picture, edit photos & videos, edit pdf, and convert pdf, and images to any format, etc.
TinyWow is a free website that lets you convert multiple files without having to sign up or pay.
Read Also: How To Add Filters in WhatsApp Video Calls
Tinywow Profile Photo Maker: The Best Tool To Create New Profile Picture
Tinywow Profile Photo Maker is one of the tools of Tinywow which allows you to create profile pictures. With Tinywow, you can be sure that your profile picture is going to be unique and beautiful.
With this easy-to-use online editor tool with a variety of useful features, you can create a custom profile picture that reflects your unique style.
Plus, Tinywow's Profile Photo Maker selection of filters and editing tools ensures that your picture will look amazing and beautiful. So why wait? Create your new profile picture today!
Read Also: How to Fix the Megapersonal Error 701
Tinywow Profile PhotoMaker Features:
It is the best tool for creating a Stylish profile pic.
This app allows users to create new profile pictures with the help of various filters and editing tools.
The app also provides a wide range of templates that can be used to create new profile pic.
This App lets you choose whether you want a circle or square picture and what color you want the background to be. If you don't see the colors or gradients you want, you can choose your own.
In addition to the cool patterns, the pre-selected colors are also extremely nice. TinyWow can assist you in creating your new profile picture in whatever way you require.
Important Highlights:

If you're worried about privacy, you should know that the company's Privacy Policy says that this web-based photo editor will only keep the files on its servers for an hour.

When the timer goes off, the files are thrown away. If you use the file to convert another file with TinyWow, the timer starts over.
Create New Profile Picture Using Tinywow: Step-by-Step Guide
Tinywow Profile Photo Maker is an AI-powered app that creates beautiful profile pictures for you. It doesn't matter if you're a beginner or a professional; this app will help you create your best profile pic ever.
How To Use Tinywow Profile Photo Maker?
TinyWow makes it easy to make a profile picture. Here's what you need to do:
Step 1: Load TinyWow Profile Photo Maker into your browser and choose a photo from your device. You can either click the button that says "Upload from PC or Mobile" or drag the files onto the frame.
Step 2: Check the reCaptcha box to prove you're a person, then wait a few seconds for the tool to process the photo.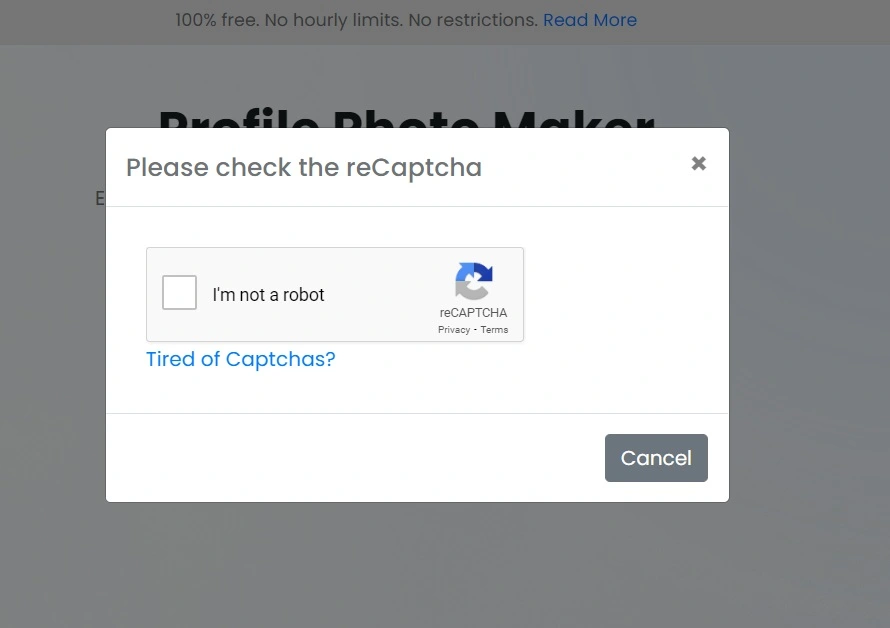 Step 3: Change the level of zoom on the photo. Click on Process Photo when you're happy with how close or far away the photo is. If you want to make more changes later, you can click on Reframe Photo.
Step 4: You can make the picture round or square and change the color of the background. You can choose one of the ones that are already made or choose your own colors.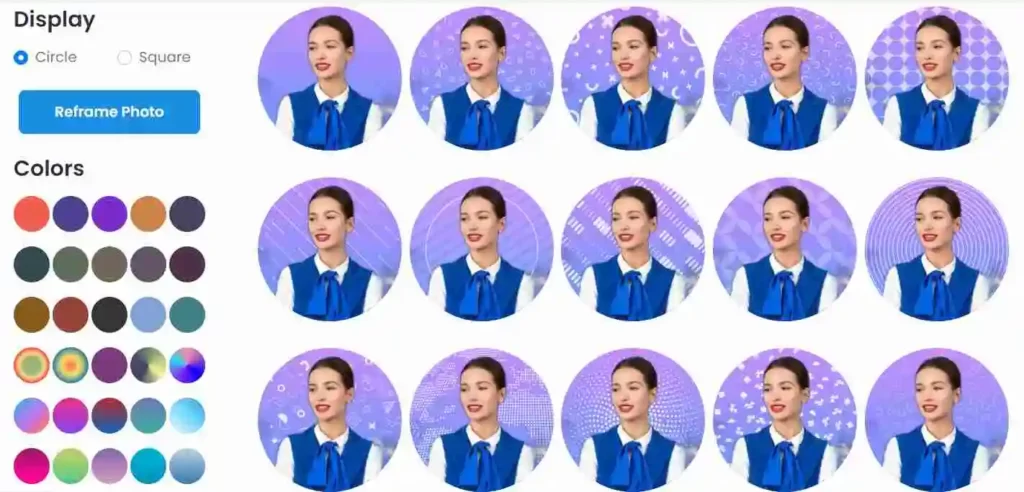 To choose your own color or make your own color, you can click on custom color. Scroll down to find the Custom Color Button.
Step 5: Download the picture or pictures you want for your profile by clicking on it, and you're done.
Do this as many times as you want to make more cool pictures.
How To Remove Background From Image Using Tinywow?
You are now the master of your own digital universe.
Background removal is an important process in image processing. It removes the background from an image and leaves you with an image that has only the foreground in it.
So, if you are looking to remove the background from any image or want to convert jpg to png image, then you can use Tinywow for the same.
Step 1: First, Load TinyWow Image Background Remover into your browser and choose a photo from your device. You can either click the button that says "Upload from PC or Mobile" or drag the files onto the frame.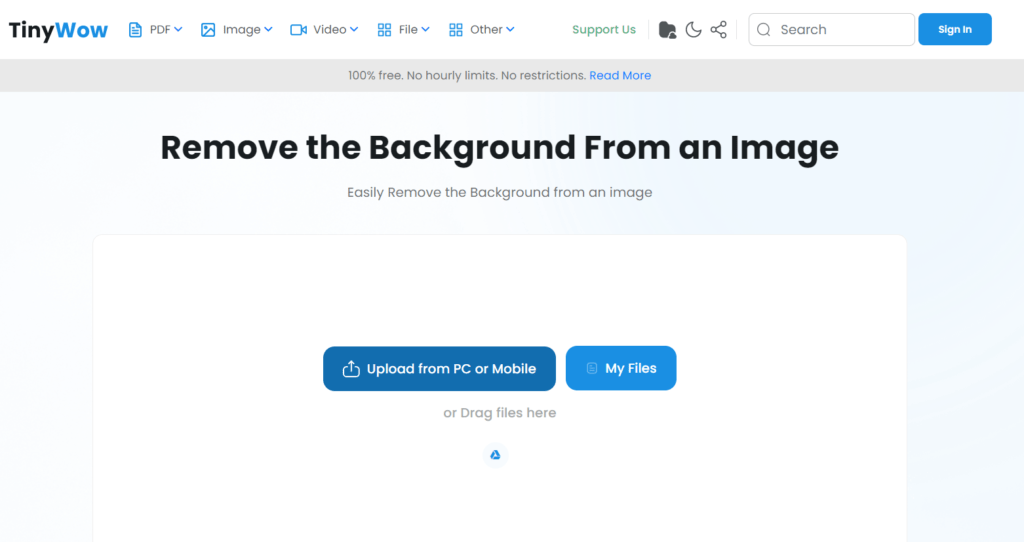 Step 2: Now Check the Tranparent Background, and then click on Remove Button.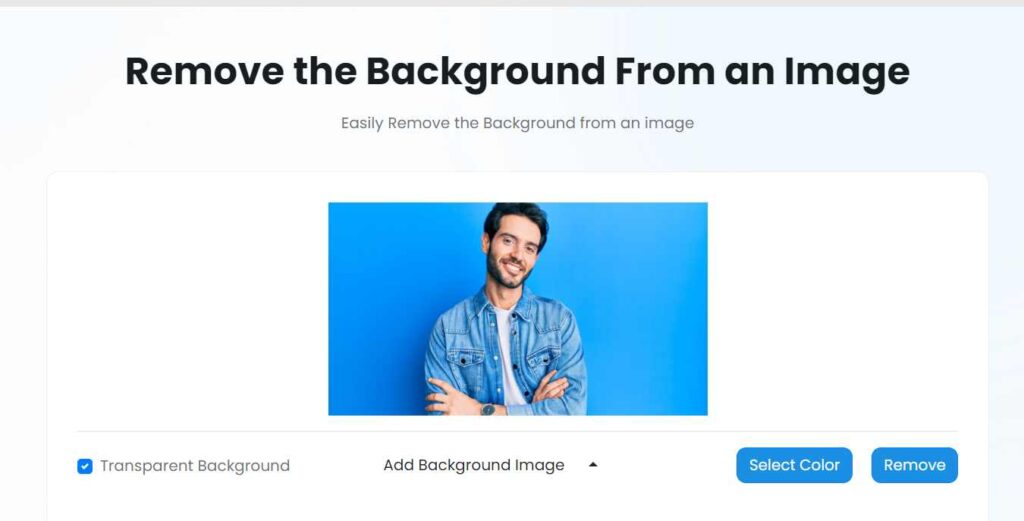 Step 3: Check the reCaptcha box to prove you're a person, then wait a few seconds for the tool to process the photo.
Step 4: Now your Image with NO Background is ready to download, click on the Download button, will automatically save to your device.
TinyWow Review (Honest Review):

I recently heard about this website called TinyWow that lets you create a new profile picture using an old one. I decided to try it out and see if it was any good. Overall, I was really impressed with the results. The website is very easy to use and the results are really good.
5 Best Alternatives of Tinywow
Allinone.tools is best ever tool with all in one features of image editing, video editor, pdf editor, social media thumbnail generator, image converter, pdf converter, html or cs beautifier, etc.
You can create professional thumbnail, best profile pictures for Facebook, Instagram, twitter, YouTube, etc.
Free Tiny Tools has tools is used for converting, editing, and converting text and images, as well as online calculators, unit converters, a binary converter, website management and development, and other useful things like password generators and YouTube thumbnail downloaders.
There's a search bar that makes it easy to find what you're looking for. You can also change the website's theme between light and dark.
ezgif.com is a website where you can create your own GIFs from photos, videos and audios.
With Ezgif, you can make your own animated gifs, with tons of options for each step of your gif creation process. The interface is simple, intuitive, and full of features that make it easy for anyone to create great gifs!
It can edit and convert many other image formats, such as animated WebP, PNG, MNG, and FLIF. It can also edit videos in a basic way.
Like Tiny Wow and FreeTinyTools, Common Tools is a set of free online apps that are small, useful, and easy to use. Again, you don't need to create an account to use them. The website says it has more than 100 of these useful tools that you can use for free.
There are apps for 5G, converter, CSS, editing, general, programming, text analysis, unit conversion, Web, wireless, and writing in the collection at Common Tools. You can search the site or use these categories to find what you want.
No-Signup Tools is a free online collections of different tools which does not require any sign up or pay.
It features design, marketing, social media, developer tools, communication, teaching, writing, productivity, surveys and polls, courses, file hosting or sharing, utility, privacy, finance, and remote work. You can also sort tools by top-rated, staff picks, or alphabetically.
Frequently Asked Questions (FAQs)
1. Is Tinywow Safe To Edit Photos & Videos?
Yes It is 100% safe to use.
Conclusion
After reading this post, we hope that you can easily created your new profile picture and able to find at least one alternative to tinywow tool that you can use to create cute profile pictures and edit your photos and videos, easily.
Thank you for reading, we will publish new and latest blog post on regular basis. Please stay tuned with us. If you have any question or suggestion, please contact us at alltechfind@gmail.com. Happy Blogging !
At last if you like this post, please share with your friends, family, relatives, etc.